Here in the northern hemisphere, the days are getting longer, and warmer. Summer is upon us and I thought I'd offer a few tips for keeping your writing mojo going when many would rather be at the beach or holed up in a cool bookstore escaping the heat.
Read – Any time of year is a great time to read, but there's something about lounging at the pool, or on a beach, or outside a café with a book in hand and the sun beaming down that tends to inspire AND relax. Ditch any stress-inducing books and settle in for whatever lets you escape for a bit. Sip that iced tea a little longer, prop your legs up on a bench, or indulge in that second sandwich on a picnic blanket and let the words take you away.
Send non-deadline work to friends/colleagues for feedback – Just as many writers like lounging around and reading more in summer, often, so do their friends and trusted colleagues. Why not give them a taste of something you've been working on for feedback? People tend to be more easy-going with summer reads, and you can be more easy-going with feedback requests. Ease off on imposing a deadline, or asking specific questions. Just hand it off, ask for them to read it by the end of the summer and just casually ask, "What'd you think?"
Invest in a low-tech writing device – Usually known as a notebook or journal, coupled with a writing implement that makes marks on a page. These easily portable tools help you focus on the physical world around you, in all its blooming summer glory, instead of on artificial screens that the sun makes you squint to read. Summer is a great time to get out and get physical, and that includes being more physical with your writing.
Develop a schedule (and stick to it) – The days are longer; use that to your advantage. If you write better in the morning or evening, use the extra daylight to really dedicate yourself to quality writing time. Sunsets and sunrises can be very inspirational. Or extend your lunch by fifteen minutes and write in a park under a tree. If you prefer indoors, find a quiet spot near a window in a local library. Whatever you do, make the time work for you and then do your best to stick to that routine. If you can get used to it during the lazier (sometimes crazier) days of summer, it'll be easier to stick to come fall and beyond.
Reward yourself – Whether you set specific project goals, or dedicate yourself to a set amount of time/words each day, remember once in a while to give yourself some positive reinforcement for achievements (or consistent discipline).
Get away (and write!) – Rather than hole up with steaming mugs and cookies during the long summer days, or seek out all the air-conditioned spaces within a five-mile radius of your place (neither of which are bad ideas, mind you), take the time to actually get away. Whether it's a weekend in the mountains, a few days in the Caribbean, a month in Europe, or even a week at Lake Arrowhead with fellow Writers' Program students, a break from normal life can refresh and inspire you in ways no jaunt to the local coffeehouse can.
Summer Fridays (or Mondays) – Every weekend is a three day weekend! This means you have to be extra-dedicated to your writing time the other four days, but it's summer. You deserve a bit of a break. (Idea courtesy of instructor Quressa Robinson)
Above all, for summer and always, remember to take breaks and forgive yourself for lapses and derailments. Productivity isn't increased by beating yourself up when you fall off the writing wagon. Wait until you're back in the right head/time space, then start up again. Writing should fulfill you, not drain you – and summer is a great time to recharge!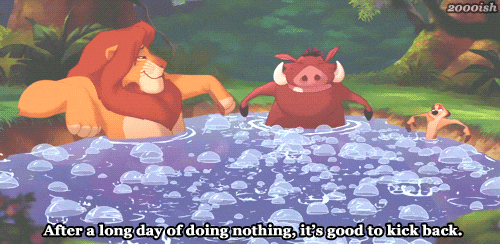 ---
Bree is the Assistant to the Director and Social Media Coordinator. You can email her at btodish@uclaextension.edu.