It's time once again to celebrate Shakespeare Day. We've previously covered staff picks for our favorite quotes, adaptations and characters. This year we're adding in favorite plays and/or sonnets, but since we've had some staff shifts, we're including additions/adjustments to our previously selected favorite categories.
Ashley:
Favorite Play: A Midsummer Night's Dream — I love it because it's whimsical, romantic, and so cheeky. A perfect combination!
Favorite Adaptation: 10 Things I Hate About You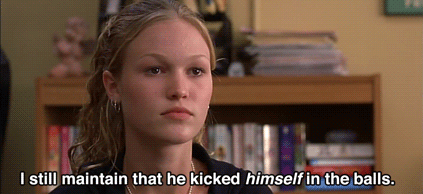 Carrie:
Favorite adaptation: 10 Things I Hate About You
Favorite quote: "Cowards die many times before their deaths; the valiant never taste of death but once." – Julius Caesar
Bree:
Favorite play: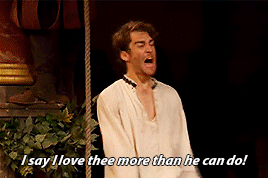 A Midsummer Night's Dream — It holds a special place in my heart as being the Shakespeare work I've performed/produced most (followed closely by Twelfth Night, which might be by second favorite play), as well as being the first Shakespeare I performed in AND the first full-length play I ever did. Also, I'm a sucker for witty romantic comedies with splashes of fantasy.
Carla:
Favorite play: Much Ado about Nothing — I like the comedies over the tragedies in general – the way they keep things light while still having a message.
Chae:

Favorite Quote: Based on King Lear, from Ran by Akira Kurosawa, "In a mad world, only the mad are sane." Greatest writer in the English language + Greatest Japanese film director = I can't even.
Charlie:
Favorite sonnet: 130. I like it because it's like a parody of his own love sonnets.
Additional adaptation – Were the World Mine, an updated take on A Midsummer Night's Dream in which a love potion turns the social order of a group of teens at a private school upside down.
Nutschell:

I'm a big fan of Shakespeare's work and particularly love The Tempest. The sorcerer Prospero is such a complex and contradictory character and the play itself contains enjoyable fantasy elements such as an enchanted island, a savage monster, and goddesses.
In terms of modern-day adaptations, however, my favorite has to be The Lion King, which is based on Hamlet.
Jeff:
Favorite play: Romeo and Juliet. A) I'm a sucker for love stories I guess but more importantly, B) this is the first play I have a memory of seeing performed live in a theater (on either a 4th or 5th grade field trip). Much later, in college, I took a "Shakespeare on Film" course and for one assignment, I had to analyze the text of the play against the text (or imagery) of a film line by line and identify ways the material was adapted for the screen. Through this exercise and examination, I found a whole new appreciation for the play itself.