Romance novels are one of the most consistent types of genre writing to stay in the market, and romantic themes in f
ilm never go out of style (especially around the holidays – you know, through Valentine's Day). While some writers use strict methodologies and outlining to crank out these stories, others write from personal angles adding a bit of flair to up the dramatic ante. Whatever your approach to writing romance, sometimes you need a little boost to get you in the mood. If you're working on a romance piece and having trouble getting into the mindset, we've got a handful of tricks to get you in a romantic (writing) mood.
Go Where the Romance Is
Whether you're just starting you story or on draft seven (we know, it happens), setting can make a big impact on the swoon factor. Take a break from trying to pound out the words, and go on a virtual (or literal) tour of the place your lovers inhabit. If it's a real place, go online and find some photos of great scenery and places to visit. If it's within traveling distance (miles and money-wise), consider taking a trip there to explore. If you're writing about a fictionalized locale, do some online research of places similar to it. The point is to find those romantic nooks in a place that makes it feel like you could fall in love there.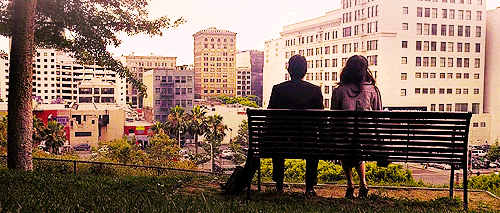 Create Romance for Yourself
If you've done the literal or virtual trek and are still having trouble getting in the mood, try setting up a romantic environment to write in. Romance means different things to different people so what works for one won't work for all. But whether it's candles and soft lighting, or club lights and thumping base, or a hot cup of tea in a cozy chair by a fireplace, carve out a little space for romance. And if you're not the romance type yourself, or aren't sure what suits your mood, try crafting a space that would make your characters feel the warm fuzzy feelings.
Create Some Chemistry
By which we mean mix up your favorite drink or snack or meal. Does red wine make you feel sassy and ready to take control? Will some chili infused dark chocolate hitting your taste buds make spicy words trip from your typing fingers? Take a moment to indulge your sense of taste to create some sensual scenes.
Spice Up Your Life
If tasting your way to sweet romance isn't doing it for you, try scenting your way there. Plenty of scents from vanilla to rose, from gardenia to passion fruit, can tickle your fancy and lead your brain from inhalation to inspiration. So go ahead, light those candles — the soft lighting can help the mood, too.
Get Your Romantic Groove On
In need of an aural boost to get those words pumping? We've got a playlist for that! We included 101 songs highlighting the sweet and sublime, the danceable and the Sunday kinds of love.
(And if you're angling to pen one of those holiday-romance crossovers, you might sneak in some holiday tunes for inspiration – something one of our staffers recently used, and we're not saying the music led to them selling a script, but it definitely didn't hurt…)