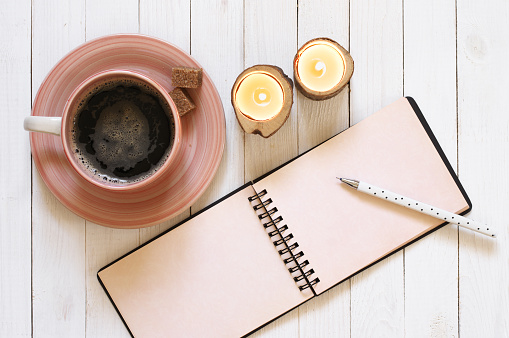 By Alexis Harmon
Between comfy lounge clothes, a seemingly endless supply of snacks, and a private bathroom, working from home can seem like a breeze. But with the added comforts come the distractions of daily life: family members, pets, dirty laundry, unwatched television shows. Being stuck at home can make it hard to get in the right headspace to work, especially for writers who prefer a cozy coffee shop over their dining room table. If you find yourself missing your caramel macchiato or fighting for an outlet to charge your laptop, here are some easy ways you can emulate the coffee shop vibe within the comfort of your own home.
Your Own Secret Base
Many of us are used to travelling outside of our homes to get work done, and sometimes sitting on the couch with your laptop on your lap doesn't cut it. To get those creative juices flowing, make writing an event by moving to a different spot in your house. Whether it's in your backyard, your laundry room or on the kitchen floor, find a unique spot to hunker down and write in. By picking a specific location that's intended for work, you'll help condition yourself to get into a writing routine.
The Right Ambiance
Prefer the buzz of your local café to your home? Try listening to a playlist that resembles the music you hear at the coffee shop. Whether you're an Indie Pop fan or prefer jazz piano, music is a surefire way to set the vibe and get yourself in the writing zone. If you have a hard time focusing to music, try some ambient background noise to set your mind in the middle of an afternoon rush.
Treat Yourself
You can only drink so many cups of traditional coffee before you lose your mind. Flex your barista skills and make something fancy to put yourself in the creative mood. For those with a sweet tooth, try whipped Dalgona coffee (you'll be thanking us later). For tea fans, try fixing yourself a fancy Earl Grey latte. Add a snack and you've got the perfect coffee shop snack to sit down and get to work.
Make it a Group Effort
We all need a little human interaction to keep those serotonin levels up. Just because you're stuck at home does not mean you need to write alone! Set a time where you can call or video chat with friends when you get to work. Whether you're workshopping together or just silently typing away on independent projects, having another person on the line can recreate the communal atmosphere that coffee shops provide.
Stick to Shop Hours
Consistency is key. And while some of us do our best work on the spot at all hours of the day, making a schedule and sticking to it can help create a sense of normalcy and keep yourself accountable. If you're having trouble staying on task, set up a time frame – your "operating hours" – in which you're able to get away from the world and write. Even if you can only squeeze in twenty minutes a day, you'll be able to keep up your routine and make some progress.
And remember, be gentle to yourself. There's no rush to complete your magnum opus while you're stuck at home. Remember to breathe, drink water, and move at your own pace. Happy writing!
Alexis Harmon is a UCLA student studying English and Education Studies in addition to working for the Writers' Program. She strives to write well, foster good vibes at all times and love cats to the point of annoyance.