As we creep closer to the end of October, many folks start planning their seasonal views and reads, but choosing a favorite, or finding something new can be overwhelming. Whether you lean toward traditional thrills, contemporary chills, or scare-light spoopyness, the WP staff's picks should have something that appeals to all.
Alexis: My spooky season go-to is always the Halloweentown series. It may not be scary, but my friends and I have watched it every year since childhood, so it always brings a sense of nostalgia.
Jennie: I usually find myself gravitating towards nostalgic movies – stuff like Hocus Pocus, of course, The Addams Family, Practical Magic, Edward Scissorhands, The Craft. I'll usually throw in a couple of actual horror movies, too. Unique to this year, though, my niece just got really into graphic novels, so she's got me reading seasonally appropriate ones like Coraline and the Marceline the Vampire Queen comics from Adventure Time. Not quite so spooky, but it feels like a festive and light way to switch up my reading this month!
Nutschell: Jonathan Stroud's Lockwood and Co. series is the perfect read for Halloween season. Set in Victorian times, it's about a ghostbusting agency run by kids (because only kids can see ghosts, obviously). It's a thrilling, funny, spooky read that I think even adults will enjoy.
Bree: I have a seemingly never-ending list of things to watch every year, from classics to exploring new-to-me things, and a lot of Halloween-themed TV episodes (the first Buffy Halloween ep, the NewsRadio costume party ep, and my all-time favorite X-Files episode, "Bad Blood" are always included). This year I'm hoping to play a little storytelling game with a split watch of Only Lovers Left Alive to a certain scene, then insert a full viewing of Crimson Peak, and then back to Only Lovers Left Alive. It's a niche experiment, but one that may become tradition.
Erykah: Netflix's The Haunting of Bly Manor definitely takes a top spot on my list of psychological horror favorites. The top spot is and always will be occupied by Insidious.
Ashley: I absolutely love Hocus Pocus and watch it every October, at least once. I also love a good horror film. My favorites are the Halloween series, the Scream series…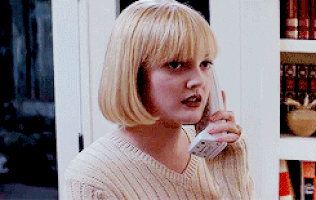 I guess I like movies that come in a series? I also grew up obsessed with R.L. Stine's Fear Street books so I'm planning to watch the new film adaptations this year to get into the Halloween spirit!
Jeff: My go-to I guess for my generation (and it's fitting for a WP alumni) is always Kevin Williamson's Scream. Not only for the movie, but I remember very well one night on Halloween, a friend and I, after doing a haunted house type of thing, snuck up on our mutual friends' house, where everyone was watching Scream in the basement. A window looked to the outside and from there, we could see they were all so unsuspecting. My friend had the full robed costume and mask in the car and put it on. We saw them watching, snuck inside, and my friend burst into the room with the full Scream killer costume and everyone screamed to high heaven. It was hilarious!
Charlie: A spooky book I love not many folks have heard of is called The Supernatural Enhancements by Edgar Cantero. It's about a guy who inherits an old house, and it's all told through letters, transcripts of recordings, and other found documents. It's a fun (and not too scary) read.
Of course, there's also House of Leaves, which is the scariest book I have ever read! And also one of my favorites. It's three nested stories: a disturbed man finds a manuscript about a documentary; the manuscript was written by a man who watched the documentary about a house; the documentary is about a family who move into a house they discover is larger inside than it is outside—and getting bigger. It features a lot of innovative typography, illustrations, pagination…it's just really stunning and compelling despite its complexity.