National Novel Writing Month (or NaNoWriMo to those in the know) is just over two weeks away. In addition to our course designed for NaNoWriMo participants, and the tips on getting through the month, we wanted to offer some resources for preparing for NaNoWriMo. Whether you're a seasoned participant, an eager first timer, or confused as to how anyone could write a novel draft in thirty days, hopefully there's something here that can help you prepare for and succeed at NaNoWriMo – and any other time you're preparing for a new project.
Sign Up & Use the NaNoWriMo Site
Once you've decided to commit to NaNoWriMo, you should head over to the official NaNoWriMo site and sign up. You can upload as much or as little detail as you want on yourself and your project, but getting your account set up will allow you to update & track your word count in November, as well as validate your winning. They also have forums, a section on local writing groups worldwide, pep talks from authors, their own prep tips, and a ton of other resources. In the time leading up to NaNoWriMo you can find some nibbles of inspiration and tips, and then return whenever you feel the need for more.
Tell Your Friends & Family

I'm always better at committing and sticking to a project when I have people I'm accountable to – it's better if they're in it with me, but even having someone to check in at regular intervals to say, "How's that thing going?" is a massive help. – Bree, Social Media Coordinator
Have the accountability set up within your friends, colleagues and family. It gives them a heads up as to why you will be disappearing for several weeks, and you might also entice a couple buddies into joining you. The community on the NaNoWriMo site is great, and so are the local groups, but it's often easier to commit when there's someone you know & respect working toward a similar goal.
Have a Plan(tser)
I make sure to slot a "plotting day" into my calendar so I can have a whole day to brainstorm and outline the story. Then I sit down with a mug of tea, put on some instrumental music and start typing away. – Nutschell, Program Manager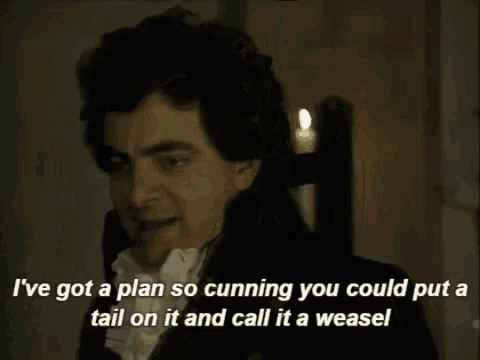 There's an ongoing debate between what, in many writing circles, is called the Planner vs. Pantser approach. Planners range from folks who meticulously world build and map out every detail of their story and characters in advance, to those who have detailed outlines hitting every major point, to intense character backstory development, and more – all done in advance of the actual writing. Pantsers may or may not have a basic outline, and they may or may not even have a fully formed idea – but they will sit down on November 1st and dive in. However, over time, being a complete pantser is not sustainable. The dedication it takes to completing at least 50,000 words in thirty days can be daunting to even seasoned writers – and without a solid reference to make use of when you get stuck, or drained, or lose motivation, it's very difficult to get through the month.
Over time, a hybrid of the two has developed: the Plantser. Plantsers have enough of an idea formed, concepts of their world, characters, and story arc to have something to turn to when they run low on writing steam. So do a rough outline, write some sticky notes and put them on your wall, print out character descriptions and inspirational photos, have at least some idea of who's in your story, what the story is, and how you want to tell it. Then, remember to be flexible with those ideas when the time comes to write. (It's also easier to silence your inner editor when writing the first draft if you know who's going where in the story and how they get there.)
Read/Watch Up
Watching similar movies to what I have in mind to write. Sometimes pausing the scenes to reverse engineer and outline and study the structure of said mov
ies. And coffee… lots of coffee. – Jeff, Program Assistant
Get into the world of your story and characters by reading/watching things that inspire and inform that type of writing. There's nothing wrong with finding inspiration in others' work while preparing for yours. It can also be helpful to look at works you love with a more critical eye to see what's working in them, and what's not. When you see some of the flaws in literature and films you admire, it can help motivate you to a) not aim for perfectionism in your work (especially not in a first draft) and b) find your own unique ways of solving some of those issues.
Stock up on Treats/Fuel

Think about what fuels you when writing – and grab some easy options for your writing time and breaks. Whether it's protein bars or fruit, coffee or tea or sparkling water, chocolate or popcorn, the more you grab at the store now, the less time you'll spend chasing after those cravings when you should be writing. It's also good to have something on hand to reward yourself throughout the month when you meet little goals (and yes, we recommend having smaller goals within the larger goal – and so does NaNoWriMo).
Create a Playlist

I create a playlist—I have to have one filled with music that resonates with me for whatever I'm writing. And then I also have found that writing in a notebook helps me get started—it's like a warm up. I spend so much time on my computer for work that it helps me switch gears in my brain. – Carla, Program Representative
A favorite of pantsers and planners alike, this productive form of procrastinating things like outlining and character bios can help set the right mood for writing. It's another way to cut out distractions from the actual writing in a way that will fuel and inform the atmosphere both for your work and your, the writer.
Choose Your Writing Tool(s)

While word count tracking and final validation are done on the NaNoWriMo site by inputting typed text, there are many people who participate who write their draft by hand (and then type it up in time for the deadline – or use a fancy notebook that can transfer your writing to a text-based app). So there really is no "wrong" way to write during the month. However, if you plan to handwrite, or use a tablet/laptop a lot, make sure you have all the tools in stock before the first. You don't want to spend time buying a new tablet charger or hunting around stores for your favorite pens during precious writing time.
We hope these prep tips are useful for NaNoWriMo participants as well as anyone starting a new project (especially on a deadline). Let us know if there are any tips or resources we missed!