Welcome new Writers' Program instructor Colin Costello! Colin is teaching a section of Writing the First Screenplay I on the UCLA campus (Reg# 371082) this Winter, and sat down with us to offer some insight into creative life and his upcoming course.
What sparks your creativity?
Great question. I am inspired by life. I'm curious, so I watch and listen. I like to sit in a coffee shop with my earbuds in my ears and the volume off as I listen to everyday conversations and how people speak. I like to eavesdrop on others talking and hear how humanity relates to each other. It's in the curiosity in me. I also like to hike and then do a little earthing and mediating.
What do you rely on for those times it's difficult to find the time, energy, motivation and/or inspiration to write?
Here's the thing. Writing is a job. It's a commitment. Sometimes to others. Many times to yourself. You must treat it as a job. If you are writing for a living, you don't have time or the luxury to wait to be inspired as others are depending on you. If you're writing for yourself, same thing. Are you going to let yourself down? If you hit a roadblock, watch a movie similar to what you are writing. Read a similar screenplay. Look to other authors and allow them to speak to you.
What's your favorite book and/or movie?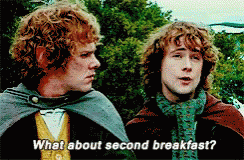 I am a genre geek and I have to say it is a toss-up between Lord of The Rings: The Fellowship of the Ring and Avengers: Endgame. Despite what Scorsese and Coppola say, I believe Marvel movies are cinema.
What's your favorite quote about writing?
"I could be just a writer very easily. I am not a writer. I am a screenwriter, which is half a filmmaker… But it is not an art form, because screenplays are not works of art. They are invitations to others to collaborate on a work of art." – Paul Schrader
Who do you wish you could write like?
I really do wish I could write like Stephen King, I am also a huge fans of Christopher Markus and Stephen McFeeley. Also Jordan Peele, John Irving and August Wilson as well.
What excites you most about teaching for the Writers' Program?
I love the idea of being able to help aspiring screenwriters realize their dream of completing a screenplay.
They can then call themselves, "Screenwriters." A producer can't call himself a producer until he produces a film. An actor has to act in front of someone. However, you have a produced an actual screenplay that you can hold. Thus, after this class you are a screenwriter. I want to help writers get there.
What do you hope your students get from your course?
I hope students learn not just the craft but the dedication and perspiration and how being emotionally vulnerable makes you a screenwriter.
Anything else?
I can't wait!
Thank you to Colin for taking time to share with us. Look for more instructor interviews coming soon!